Chinese
Translation
Queenstown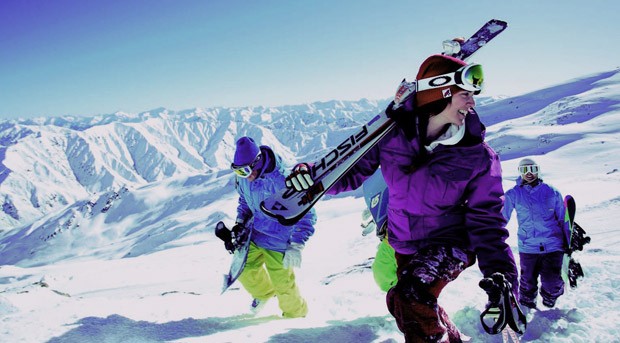 Queenstown, surrounded by craggy peaks and set on the shores of crystal clear Lake Wakatipu, is often the first place that people think about when planning a ski or snowboard holiday to New Zealand. Originally attracting those hoping to make their fortune in the goldmines, it is now the perfect destination for those looking for action, both on and off snow. With 1.9 million guests every year, the town itself is bustling at all seasons, but really kicks in to high gear during the winter months. A vibrant nightlife scene combined with excellent eating options and a multitude of adrenaline activities are the major reasons for it's everlasting popularity.
Take a look at our popular one week Queenstown package, and our specialist package/tour for families.
All of the accommodation options in our Queenstown based tours are located within easy walking distance to the town centre, so if you still have any energy left after a busy day skiing or snowboarding, you can head into town to sample Queenstown's many delights. There is so much to see and do in the region we have decided to make it easy for you by listing our favourites below - and best of all, we can pre-book any activity for you - super important in peak season!
Shotover Jet
The Queenstown Shotover Jet is an absolute must do for those looking to scare themselves! The jets zoom along the Shotover River coming dangerously close to the cliffs either side of the canyons. The drivers are super skilled and experienced, and definitely know how to make you scream! Travelling at up to 85km an hour, the jets are able to operate on only 10cm of water due to their special design.
Queenstown Winter Festival
The annual Queenstown Winter Festival usually takes place during the final week of June. The festival is an amazing way of all of the local businesses coming together to celebrate Queenstown for the beautiful place it is. The 10 days of entertainment includes concerts, street parties, crazy mountain events, fireworks (and much much more) and makes the Queenstown Festival the largest of it's kind in New Zealand (and perhaps the Southern Hemisphere).
Bungy Jump
A trip to Queenstown would not be complete without at least watching people throwing themselves of a ridiculously high bridge all in the name of fun! Even better if you are brave enough to try it yourself. New Zealand is the home of bungy jumping, with the AJ Hackett Kawarau River Bungy being the first commercial operation in the world, opening in 1989. There are a number of options to choose from in Queenstown ranging from the original jump on the Kawarau River, to The Ledge Bungy where you will feel like you are launching off from the top of the world.
Onsen
Located at the bottom of the Coronet Peak ski area, Onsen is the ultimate place to relax and unwind after a day on the snow. The private hot pools are on the top of a cliff and overlook the Shotover River. The pools are fed by pure spring water and surrounded by beautiful cedar woodwork. Very popular in wintertime, it is essential to book in advance - talk to your friendly NZ Snow Tour's guide who will help you out.
Burgers
The first stop for most people in Queenstown is the world famous (in New Zealand?) Fergburger. Open 21.5 hours a day (and packed with happy customers 21.5 hours a day) this burger joint is not your average burger bar. Gourmet burgers use ingredients ranging from pork belly, to Fiordland Venison, beef and tofu that satisfy pretty much everyone under the sun. Gluten free available of course. If the line is too long at Fergburger jump next door to Fergbaker for delicious New Zealand style pies - lambshank pie is our favourite
Skydive Paradise
Located at the head of the Lake Wakatipu Queenstown is the hidden gem called Paradise, Glenorchy. In this dramatic misty mountainous region is nestled our beautiful dropzone that offers some of the most amazing views when jumping out of a plane! You will drop at 200km/hr into Paradise discovering Your Natural High. The tandem instructors will get some epic photos & videos whilst you are buzzing the skies! Talk to your professional NZ Snow Tour Guides and they will bring you a step closer to experience your best off snow adventure yet.
NZ Snow Tours has four perfect locations in the Southern Alps, all of them ideally situated to give you easy access to the best ski areas in New Zealand!

more

NZ Snow Tours has a number of exciting options to choose from, each designed so that you can experience the best snow in the Southern Alps.

more

NZ Snow Tours has a team of expertly skilled mountain professionals on hand who will ensure your trip is a safe and enjoyable one.

more