Chinese
Translation
Blog
4 'Must Do' Stretches after Skiing or Snowboarding
When you don't ski often, nothing is worse than that feeling when you wake up after your first day back on snow. You body doesn't know what hit it - although it feels like a freight train may have! Each muscle feels tight, tired and sore. For the first few minutes you get a glimpse of what your body might feel like when its 80! And you think to yourself "I should have stretched".
Stretching before and after skiing is going to make your ski or snowboard holiday just so much more enjoyable and your body will thank you. Hey it might even improve your skiing (well… actually lets not get to carried away!).
There are lots of stretches you could do, but to keep it simple here are the four best stretches for you to do after skiing or snowboarding. Remember stretching is meant to feel uncomfortable, but not painful – so don't go overboard. Hold your stretches for at least 1 minute, if you can 2 minutes will work even more wonders. And don't forget to make sure you switch sides.
To help explain and demonstrate these four best skiing and snowboarding stretches I asked Aussie Burton snowboarder Hannah Trigger to assist. Hannah stretches everyday after snowboarding, she even hits the gym after training on snow too! She says without stretching each night, she would not be able to train as hard the next day – its so important!
Quadriceps (aka Quads)
You can use one hand to balance on a chair or something stable. Then bend back one of your legs and hold your ankle with the other hand. You will feel a stretch down the front of your leg.
This may feel uncomfortable at first, but give it a minute and you should feel the muscle start to relax. Another easy was to do this is instead of holding your ankle is to hook your foot up onto a table - that way you don't have to hold it.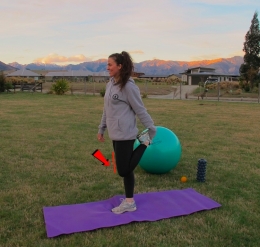 Calves
As you can see in the picture, keep one knee bent and the other knee soft (not locked straight). Reach for your toes and feel the stretch down the back of your lower leg.
You should feel it stretching from the back of your ankle to the back of your knee. As you hold this stretch and feel the muscles start to relax - lean forward and reach for your toes even more, this will increase he stretch.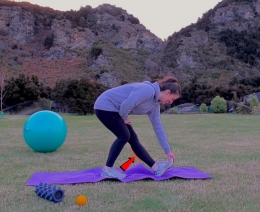 Hamstring
Find a chair or something else solid to rest your leg on for this hamstring stretch. Don't lock your knee straight, keep it soft (by not locking it straight). Reach forward to your toes with you arm and feel the stretch down the back of your upper leg.
Again as you feel the muscle start to stretch, reach further towards your toes to increase the stretch. You may not be able to actually touch your toes at first, but reach towards them as far as you can.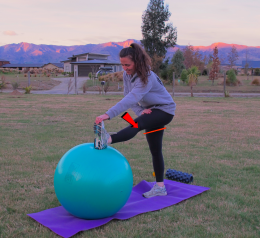 Gluteal (aka Gluts)
In a sitting position, rest one ankle on your opposite knee. Hold your other knee and pull towards your chest, and feel the stretch through your gluts. By pulling your knee slightly to each side you will feel a different muscle stretch, as there are four muscles that make up the gluts.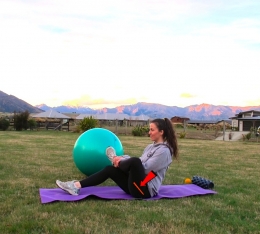 You may want to spend some extra time with this one to make sure you give all the muscles stretch, as the gluts should be your strongest muscles for skiing and snowboarding.
---
Posted By: Paula Mitchell, @ Wed, 28th Aug 2013
NZ Snow Tours has four perfect locations in the Southern Alps, all of them ideally situated to give you easy access to the best ski areas in New Zealand!

more

NZ Snow Tours has a number of exciting options to choose from, each designed so that you can experience the best snow in the Southern Alps.

more

NZ Snow Tours has a team of expertly skilled mountain professionals on hand who will ensure your trip is a safe and enjoyable one.

more